Save the Date for Parent Teacher Conferences
Monday, February 17 (3:45p-6:45pm) & Thursday, February 27 (3:45pm-6:45pm)
BOXTOP Collection as a fundraiser donation to Mickle!
A HUGE thank you to families that have collected boxtops or downloaded the app to scan receipts (BoxTops For Education). Two weeks into quarter 3 and we have over $300 collected!! Keep scanning receipts and saving boxtops to bring to Period 1, X day teachers.  
Send those grocery item receipts to school and drop them off in the office, representatives of our PTO will be happy to scan them for families.  Receipts do not have to be specifically from traditional grocery stores. Many local stores sell food products with boxtops and their store receipts work as well!
Student Data Privacy
LPS cares deeply about protecting students DIGITALLY. We go to great lengths to ensure that your child's digital interactions are safe and appropriate, that the data we collect about them is secure, and that we are guiding them to make good digital decisions. Because these efforts are less visible than our physical building security efforts, we have assembled this resource to shine light on these important measures that are happening in LPS every day: https://home.lps.org/cs/?page_id=18083
At home, we know that adults play the equal role in providing safe experiences with online tools.  LPS provides parent hints and tips be more familiar with student Chromebooks and have an understanding about "how tos" that are taught at school.
Instructional Technology Tools (ITTs) in LPS
LPS believes that high-quality curriculum and instruction can and should include instructional technology for improving student achievement and preparing learners for adult success. To that end, a District Instructional Technology Tool (ITT) Committee works to identify those ITTs that are safe for student use, support district learning goals, and encourage innovative teaching and learning.
All reviewed ITTs are cataloged in the LPS ITT Matrix [https://www.lps.org/apps/matrix/].
The most frequently used, approved ITTs are made available to students and staff in their LPS 'Portal' [https://home.lps.org/cs/2016/08/08/the-lps-portal/].
Multi-Tiered Systems of Support
Research indicates that behavior can improve 80% just by recognizing what someone is doing correctly. Acknowledgment is paying attention to and recognizing appropriate behaviors. There are many ways to acknowledge appropriate behaviors. At Mickle, we provide specific positive feedback to let students know exactly what they have done correctly, and we sometimes pair that feedback with token 'money' from our acknowledgment system, the "Mickle Store".  When we give specific positive feedback, we know it increases the likelihood that appropriate behavior will happen again. We try to acknowledge positive behaviors four times more often than correcting inappropriate behavior. Outside of school, consider using specific positive feedback to shape the behavior you would like to see repeated.
Our staff works very hard to communicate with families and students.  Our primary mode is through daily emailed announcements and Synergy ParentVue & StudentVue.  For this to work effectively, we need student contact information to be updated and accurate.  If there have been any changes, please call the school office (402.436.1216) to share updates.  
Thank you for your continued support of Mickle Middle School!
---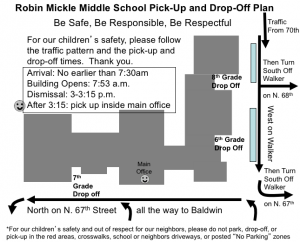 Having students arrive to school in the safest possible manner is our goal at the start of each school day. Flexibility is needed to meet this goal, especially in winter weather when students are all bundled up on slippery surfaces. It is very important that drop-off traffic follow the traffic pattern. The plan also ensures that students are exiting vehicles on the sidewalk side of school. Even one car going the wrong way can halt traffic for everyone.
Even though the traffic pattern might not be the fastest (click below for bigger graphic), it is significantly safer for the children to have traffic drop offs spread out around campus. The necessity of going one way on the side streets around Mickle is to maintain traffic flow around parked cars or during poor winter weather.

---
Parents may request and the District will provide information regarding the professional qualifications of their student's teachers and paraprofessionals.
---