Welcome Future 6th Graders!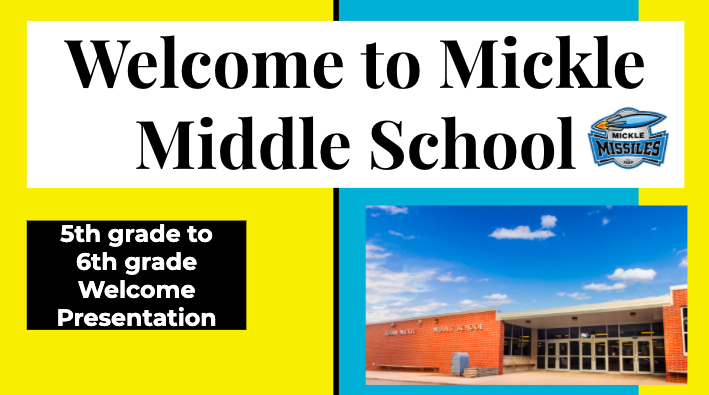 Click on the graphic above and see what we have in store for you!!
Also, we have some extended, quick read information for all incoming 6th grade families to review. Check it out here!
***To get a jump on planning to arrive & dismiss safely from Mickle. Look in the "Quick Links" menu below.
PARENTVUE – WE NEED ALL PARENT/ GUARDIAN(s) TO ACTIVATE:
Next school year (2020-21) parent/guardian(s) will use ParentVUE to update school records for their students. We plan to ask parent/guardian(s) to update their information for 2020-21 prior to School Readiness Days next August.
It is important that all parents/guardians set up and activate their ParentVUE account as soon as possible if they haven't already.
**Note: Account activation can occur on phones if parents/guardians first install the ParentVUE mobile app.
Parent/Guardian(s) only need to activate once so if you are currently using ParentVUE, you are good to go!
For more ParentVUE information, please access the following link:  https://home.lps.org/cs/parentvue-lps-parent-portal-for-student-information
BOXTOP Collection as a fundraiser donation to Mickle!
A HUGE thank you to families that have collected boxtops or downloaded the app to scan receipts (BoxTops For Education).
Receipts do not have to be specifically from traditional grocery stores. Many local stores sell food products with boxtops and their store receipts work as well!
---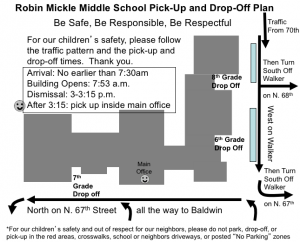 Having students arrive to school in the safest possible manner is our goal at the start of each school day. Flexibility is needed to meet this goal, especially in winter weather when students are all bundled up on slippery surfaces. It is very important that drop-off traffic follow the traffic pattern. The plan also ensures that students are exiting vehicles on the sidewalk side of school. Even one car going the wrong way can halt traffic for everyone.
Even though the traffic pattern might not be the fastest (click below for bigger graphic), it is significantly safer for the children to have traffic drop offs spread out around campus. The necessity of going one way on the side streets around Mickle is to maintain traffic flow around parked cars or during poor winter weather.
---
Parents may request and the District will provide information regarding the professional qualifications of their student's teachers and paraprofessionals.
---