---
Studying At Home

Parents of middle school student play a vital role in their development as lifelong learners.  Through elementary school, students are in the process of gaining initial skills that are new and exciting because they are first time learnings.
As a student begins middle school, they are asked to take those skills and begin to not only develop more complex skills, but begin to apply them to both real and hypothetical situations.  While we search to create real-life scenarios for student learning, they will face more and more learning situations that they find difficult to relate to their lives as eleven, twelve, thirteen, and fourteen year-olds.
This is why it is so important to build "Habits of Mind" in students.  The habit of each day reflecting on what they learned and gaining a deeper understanding.  A level of understanding that will last them through high school and into their adult life when the learning may be more useful to their every day lives and the reasons for learning the material will make more sense.  To help student develop these habits, parents should help in the following ways:
Have access to Synergy ParentVue
Create a time of the afternoon or evening during which their child has uninterrupted time to complete work at home.
Before school the next day, Mickle parents should review their child's Synergy calendars with them and help their child preview what they are supposed to accomplish, identify what materials they will need, and set goals for completing their work outside of school.
Following the study time, parents should help their child think back about their effort during study time and self-reflect on their own effort.
These are the learning habits that students will take with them to high school and to their education and lives beyond high school.
Parents will not need to assist students with home activities.  If their child is unable to complete the activities, we would like to have the child meet with their teacher for a re-learning opportunity.
Student's Role:  Mickle students will
Pay close attention and work hard during learning opportunities in school. This is the most important thing that they can do to make studying activities go well.
Find a quiet study spot at home, away from distractions and really focus on doing a good job.
Before they begin, review StudentVue to make sure of what needs to be accomplished, what materials, skills, and effort are needed to accomplish activities.
During study time, really focus on doing their best and to keep trying, even when it is difficult. When they return to school, follow the teachers' directions for what to do with the homework.
If parents are concerned about their child progress, they should call school (402-436-1216) and ask to speak to their child's teacher.
Sincerely,
Gene Thompson – Principal
---
Having students arrive to school in the safest possible manner is our goal at the start of each school day. Flexibility is needed to meet this goal, especially in winter weather when students are all bundled up on slippery surfaces. It is very important that drop-off traffic follow the traffic pattern. The plan also ensures that students are exiting vehicles on the sidewalk side of school. Even one car going the wrong way can halt traffic for everyone.
Even though the traffic pattern might not be the fastest (click below for bigger graphic), it is significantly safer for the children to have traffic drop offs spread out around campus. The necessity of going one way on the side streets around Mickle is to maintain traffic flow around parked cars or during poor winter weather.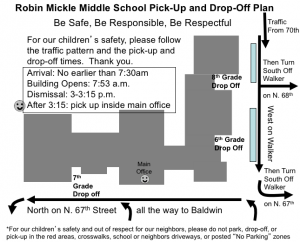 ---
Parents may request and the District will provide information regarding the professional qualifications of their student's teachers and paraprofessionals.
---