---
Opportunities to Respond

When a teacher prompts or solicits a student response, it is called an "Opportunity to Respond". Responses from students can be in a variety of forms including gestures (thumbs up, raise your hand, etc.), verbals (choral, individual answers, etc.) and written responses (on note cards, white boards, etc.).
Teachers know that when planning for student responses, it is important to:
Make sure there are MANY opportunities to respond presented to students.
All students have MULTIPLE opportunities to respond.
Provide students with a variety of ways they can respond.
Research shows that the use of multiple opportunities to respond results in:
An increase of on task behavior.
An increase of academic engagement with instruction.
Increased rates of positive specific feedback.
An increase in the number of correct responses.
At Mickle, teachers are encouraged to refine and develop their students' opportunities to respond in order to increase the likelihood that students will meet their academic and behavioral expectations.
Sincerely,
Gene Thompson – Principal
---
Having students arrive to school in the safest possible manner is our goal at the start of each school day. Flexibility is needed to meet this goal, especially in winter weather when students are all bundled up on slippery surfaces. It is very important that drop-off traffic follow the traffic pattern. The plan also ensures that students are exiting vehicles on the sidewalk side of school. Even one car going the wrong way can halt traffic for everyone.
Even though the traffic pattern might not be the fastest (click below for bigger graphic), it is significantly safer for the children to have traffic drop offs spread out around campus. The necessity of going one way on the side streets around Mickle is to maintain traffic flow around parked cars or during poor winter weather.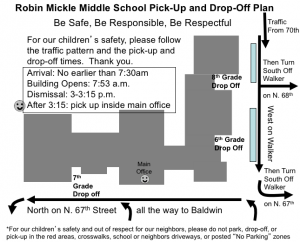 ---
Parents may request and the District will provide information regarding the professional qualifications of their student's teachers and paraprofessionals.
---