Blood Drive on Tuesday, Dec 3
In partnership with the Community Blood Bank and friendly competition with the Lux Middle School community
***Sign up to Donate!! (available time will display)
Multi-Tiered Systems of Support
Multi-Tiered Systems of Support for Behavior (MTSS-B) supports all students in Lincoln Public Schools. Grounded in almost 40 years of research, MTSS-B is a framework to organize our evidence-based practices for supporting all students. MTSS-B has three tiers of behavioral supports:
Tier 1 is for all students. They assure that students are taught school expectations, that positive behavior is acknowledged, and corrective feedback is provided.
Tier 2 is for some students. They provide students with additional instruction, practice and feedback on the school wide expectations.
Tier 3 is for a few students. They are focused more on the individual student's needs and provide students with focused instruction and guidance to meet expectations. All supports at Tier 1 and 2 are included at Tier 3.
Data is used by teams to review if supports are in place and working. Tier 1 supports are constant and consistent. Tier 2 and Tier 3 supports are constantly monitored so we can effectively meet the needs of students receiving assistance.
Here at Mickle, we have all three tiers of support for students. In this way, we know we are helping all students learn the academic and behavior skills necessary for success in and out of school.
Thank you for continued support of your student and Mickle Middle School. Together, we can partner to promote positive choices.
Gene Thompson – Principal
---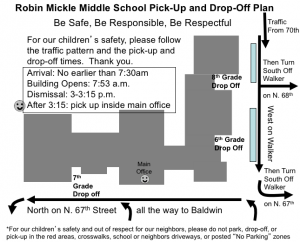 Having students arrive to school in the safest possible manner is our goal at the start of each school day. Flexibility is needed to meet this goal, especially in winter weather when students are all bundled up on slippery surfaces. It is very important that drop-off traffic follow the traffic pattern. The plan also ensures that students are exiting vehicles on the sidewalk side of school. Even one car going the wrong way can halt traffic for everyone.
Even though the traffic pattern might not be the fastest (click below for bigger graphic), it is significantly safer for the children to have traffic drop offs spread out around campus. The necessity of going one way on the side streets around Mickle is to maintain traffic flow around parked cars or during poor winter weather.

---
Parents may request and the District will provide information regarding the professional qualifications of their student's teachers and paraprofessionals.
---