I want to know more about being a
Remote Learner at Mickle:
If you have any problems with your Chromebook, please contact the LPS Help Desk at 402-436-1735

Important News from the Health Office
Yearly health screenings for students will begin soon. If you have questions, call the Mickle Health Office or you may also email Mickle@lps.org

---
ALL FAMILIES – Verify your student's contact information
If you are ready to begin, there are helpful screen shots to start the verification process!
It is important that all parents/guardians set up and activate their ParentVUE account as soon as possible if they haven't already.

Parent/Guardian(s) only need to activate once so if you are currently using ParentVUE, you are good to go! A mobile app is available.
BOXTOP Collection as a fundraiser donation to Mickle!
A HUGE thank you to families that have collected boxtops or downloaded the app to scan receipts (BoxTops For Education).
Receipts do not have to be specifically from traditional grocery stores. Many local stores sell food products with boxtops and their store receipts work as well!
---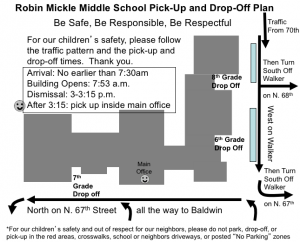 Having students arrive to school in the safest possible manner is our goal at the start of each school day. Flexibility is needed to meet this goal, especially in winter weather when students are all bundled up on slippery surfaces. It is very important that drop-off traffic follow the traffic pattern. The plan also ensures that students are exiting vehicles on the sidewalk side of school. Even one car going the wrong way can halt traffic for everyone.
Even though the traffic pattern might not be the fastest (click below for bigger graphic), it is significantly safer for the children to have traffic drop offs spread out around campus. The necessity of going one way on the side streets around Mickle is to maintain traffic flow around parked cars or during poor winter weather.
---
Parents may request and the District will provide information regarding the professional qualifications of their student's teachers and paraprofessionals.
---