---
Teaching Expectations
Research shows that when behavioral expectations are clearly established and taught, children's problem behavior is prevented or reduced. We cannot assume that children know our expectations, rules or appropriate ways to behave in different settings. Children will learn appropriate behaviors when they are given consistent modeling and practice.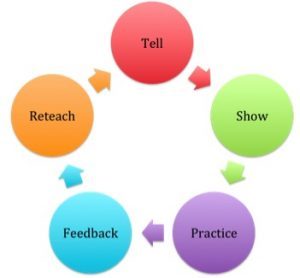 What does it mean to teach behavior? We follow the same basic steps when teaching behavior as we would for teaching any new skill, especially academics.   The graphic below shows a teaching cycle. Think about any new skill you have learned or that you have taught someone else and reflect on the different steps in the teaching cycle. It is critical to move beyond the tell and show phases and give children plenty of practice and feedback
about how they did meeting the expectations. Just like we would with an academic error, if a child makes a behavioral error, we engage in re-teaching the expectations.
We encourage you to define and teach your expectations at home just like we do at school so the children know exactly what they should do and how they should do it. This helps prevent inappropriate behavior from happening. It could be helpful to use the school-wide expectations when teaching your child your home expectations.
Sincerely,
Gene Thompson – Principal
---

Having students arrive to school in the safest possible manner is our goal at the start of each school day. Flexibility is needed to meet this goal, especially in winter weather when students are all bundled up on slippery surfaces. It is very important that drop-off traffic follow the traffic pattern. The plan also ensures that students are exiting vehicles on the sidewalk side of school. Even one car going the wrong way can halt traffic for everyone.
Even though the traffic pattern might not be the fastest (click below for bigger graphic), it is significantly safer for the children to have traffic drop offs spread out around campus. The necessity of going one way on the side streets around Mickle is to maintain traffic flow around parked cars or during poor winter weather.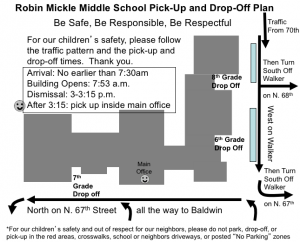 ---
Parents may request and the District will provide information regarding the professional qualifications of their student's teachers and paraprofessionals.
---