---
Looking for Mickle clothing? (optional) – https://mickle19.itemorder.com
New Items available for 2019-'20
This online order chance open until Aug 18.
Orders will come to Mickle to be distributed when available after Aug 18
---
Information that we hope will help prepare your family for the beginning of the school year.
School Readiness events for families will be held from 4:30 – 6:30 p.m. on Wednesday, August 7th &

2:00 – 4:00 p.m. on Thursday, August 8th.

Additional information regarding these school readiness events will be shared on the Mickle Web Site in early August.
All families will be asked to verify that they have an active ParentVue account for their LPS student on readiness days.  

Please call the Mickle school office at 402.436.1216 if you need help activating before these August events.

The first day of classes for students is Monday, August 12th.  A reminder that all students will be released at 1:40 p.m. on Monday, August 12th, Tuesday, August 13th and Wednesday, August 14th.
Please review the information in our newsletter that was mailed home for other important dates and events.
So what is new and not so new at Mickle this summer?
This summer staff members have been taking classes and attending staff development opportunities to build their instructional knowledge and skills.  Nancy Howe and our custodial team have diligently worked to clean rooms, offices and hallways for the upcoming year. We have also been interviewing candidates to replace staff who are moving to high school, elementary, or leadership opportunities within and outside the district.
What do you hope to accomplish for the upcoming year?
As part of the Continuous School Improvement process, we have identified a building wide academic goal that we believe can have a positive impact on student learning across all curricular areas.
Our academic focus is to improve student engagement by increasing student opportunities to respond.  By increasing student participation and focus on the learning objectives, we hope to see an increase in student's ability to demonstrate their understanding of the content.  The result should be an increase in student achievement across curricular areas.
We will also continue to place an emphasis on building a positive culture and learning environment for students and staff.  Creating a safe and accepting environment along with developing high academic expectations and personal and social development with help students be successful.  Through hard work, collaboration and individual support we believe our students will make a successful transition to high school, college and careers.
Belief Statements
We believe that all students are capable of learning.
We believe that high expectations lead to higher achievements.
We believe that students should be celebrated for their efforts and achievements.
We believe that positive, caring relationships are essential for learning & personal growth.
We welcome and value the input & active participation of our community.
We are accepting of and learn from our differences.
We offer opportunities that empower students to lead & contribute to our positive learning community.
Enjoy your summer.
Gene Thompson – Principal
---
Having students arrive to school in the safest possible manner is our goal at the start of each school day. Flexibility is needed to meet this goal, especially in winter weather when students are all bundled up on slippery surfaces. It is very important that drop-off traffic follow the traffic pattern. The plan also ensures that students are exiting vehicles on the sidewalk side of school. Even one car going the wrong way can halt traffic for everyone.
Even though the traffic pattern might not be the fastest (click below for bigger graphic), it is significantly safer for the children to have traffic drop offs spread out around campus. The necessity of going one way on the side streets around Mickle is to maintain traffic flow around parked cars or during poor winter weather.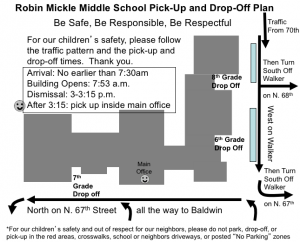 ---
Parents may request and the District will provide information regarding the professional qualifications of their student's teachers and paraprofessionals.
---