Click below to learn more about
6th grade at Mickle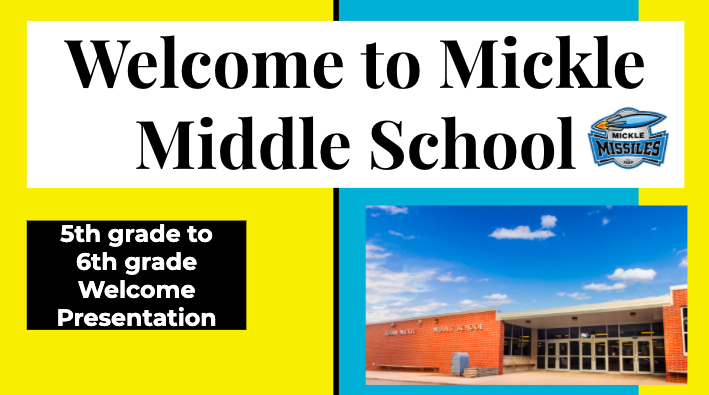 Remote Learner Info At Mickle
If you have any problems with your Chromebook, please contact the LPS Help Desk at 402-436-1735
Monitoring Your Student's Progress
We hope that families have found value in the electronic access that our staff have been working hard to provide in Synergy ParentVue, phone and email communications, and parent access to Google Classrooms with the help of students.
Families Accessing Information On Their Own
There are multiple ways for you to learn more about how learning is going for your student. Please see below for details about how you can stay connected.
Synergy Parent Vue:
The quickest way to check student progress is to look over grades and attendance in the Synergy ParentVue application. Here you will find assignments that have been turned in, the corresponding grades, comments from teachers back to students, which assignments are missing, and the overall course grade. Teacher 'class websites' in the ParentVue tabs have also been created to give you overall information about the course, rationale about the curriculum, and how best to reach out to teachers. A Synergy ParentVue video tutorial can be found HERE.
Google Classroom:
Students all have access to Google Classroom for all their courses. Parents do not have direct access to Google Classroom. However, one way to learn more about the work your student is doing in their classes is to have them show you their Google Classroom 'space'. If you notice that assignments are missing on Synergy ParentVue, ask your student to show you their work on Google Classroom.
Looking over your Synergy ParentVue/StudentVue gradebook and attendance will give you a good snapshot of their progress in their courses. Taking the time to sit down with them and go over their grades, and look through their Google Classroom is a great way to discuss what they are doing well and where they may need to make some improvements. Doing this may also generate some questions that you would like to communicate with your student's teachers.
Please know that families are always invited to reach out to our staff to ask questions, receive updates, or set up a time to discuss student progress. Feel free to call or email your student's teachers anytime you have questions or concerns about your student's classes.
The Mickle PTO is a great way for families to be involved in our school. Check out our website for the how you can help with our current fundraiser.
---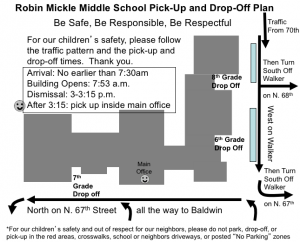 Having students arrive to school in the safest possible manner is our goal at the start of each school day. Flexibility is needed to meet this goal, especially in winter weather when students are all bundled up on slippery surfaces. It is very important that drop-off traffic follow the traffic pattern. The plan also ensures that students are exiting vehicles on the sidewalk side of school. Even one car going the wrong way can halt traffic for everyone.
Even though the traffic pattern might not be the fastest (click below for bigger graphic), it is significantly safer for the children to have traffic drop offs spread out around campus. The necessity of going one way on the side streets around Mickle is to maintain traffic flow around parked cars or during poor winter weather.
---
Parents may request and the District will provide information regarding the professional qualifications of their student's teachers and paraprofessionals.
---